Just when you thought Love Island taking over your life for two months of the year was enough, a new report claims ITV2 bosses are discussing the prospect of a winter series.
And while you're probably thinking, 'Wait, haven't we been here before?' the insider insists the show wouldn't be like Survival Of The Fittest – ITV2's last attempt of translating the series into a winter version.
According to The Sun, the show would follow exactly the same format as Love Island to ensure its success, and be filmed in a villa in South Africa during December. Really? Is this really going to be a thing? We're not sure our own love lives could handle being invested in other people's relationships for another eight weeks.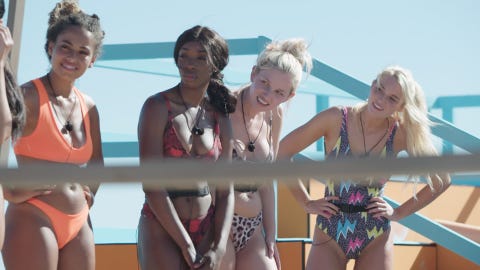 "After the flop of Survival of the Fittest producers want to keep the format simple and mop up the gaping hole Celebrity Big Brother left reality TV hungry audiences," the insider commented. "Winter Love Island makes sense as fans adore the drama and love triangles and everyone wants to enjoy a bit of sun on screens in the cold winter months."
They added that, "It's still in the very early stages and casting isn't even close, but producers at ITV Studios and crew are definitely gearing up for it."
Credit ITV & Hart